Pinterest has unveiled the new version of its analytics tool, which lets you monitor the progress of your pins, your boards and your audience. Here we explain what's important to know about it!
Pinterest Analytics, which has been available for over a year, gives you access to data about how your pins and your community/audience are performing, thus enabling you to refine your content and discover which of your site's images are being shared on Pinterest.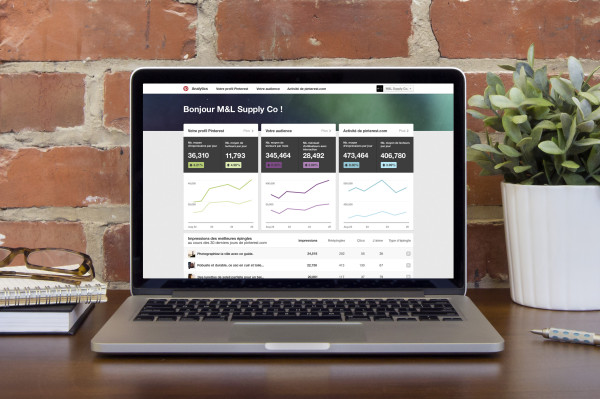 This new version, released at the end of August 2014, and complete with a graphic redesign, now offers you a more qualitative approach to the data involved. Here are the new features you can now find in the tool:
 Your audience
Not only does the "Your Pinterest profile" section provide you with information about the activity associated with your pins, but this completely new part of the tool also tells you about the people who are monitoring your content and interacting with it (and not just your followers). It is divided into two sections:
Demographics
Country, language, sex – all those types of information that are extremely important when it comes to knowing and determining your target/targets are available here. You can find out who your content has had an impact on.
Interests
Pinterest's tool has gone even further in terms of defining your target, now providing you with a comprehensive overview of your audience's areas of interest:
sports, brands, lifestyle, celebrities – everything your audience has interacted with can be found here, providing you with a sample what attracts them, what they are interested in.
Pinterest Analytics also tell you which boards have the highest numbers of your pins. As with Over-Graph's Top Fan, you can now find out who the pinners that prefer your content and share it with their own communities are.

The final piece of information added by Pinterest concerns the brands your audience follows. Here, "brands" refers to professional accounts, so don't be surprised to find individual people high in the list.

Equipped with these new metrics, the Pinterest's tool is responding to the ever increasing demands of brands that want to know their audience. Its new analytics tool provides specific data about that audience so that content can be designed to increase the popularity of pins and, by consequence, that of the brand.