3 unavoidable social networks for Brands
Nowadays, Facebook, Twitter and Google + are historical and indispensable for brands, but other social networks are getting unavoidable.
In an interview (in French), a question about unavoidable social networks has been asked, and I decided to dedicate several articles to them to complete my answer.
First, let's take a look to Pinterest, Vine and Snapchat. 3 social networks based on the sharing of pictures and videos with recent features very useful for brands.
In a second article, we will see 2 other social networks, less known but still very interesting for brands : Line, Pheed and Jelly.
With around 70 millions active accounts in the world, Pinterest is a sharing photo and video sorted in different categories. Brands use it to communicate visually with the creation of thematic "boards". Their objectives are to increase awareness , and, especially, the generation of traffic to their e-shop web site and, though, to sell.
A Pinterest account to follow : Oreo. The brand customizes its famous black and white cookies according to event and news.
Novelty : the Custom Pinterest Button. It allows to win user's loyaty and to reinforce their engagement toward brands. They offer a preview of pins (posts on Pinterest) from the brands account as a pop-up encouraging to follow the account. For further information, check out the Pinterest's blog.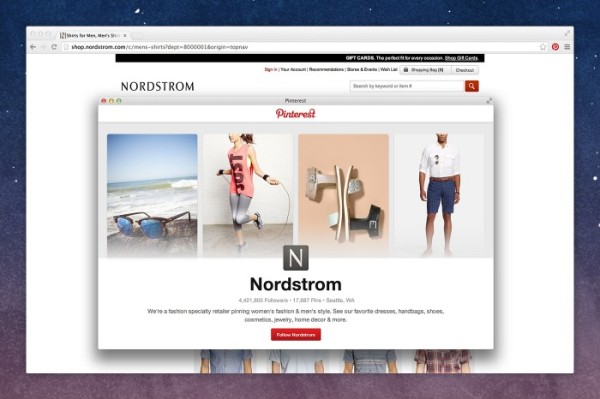 With more than 40 millions users, Vine is a sharing 6-seconds video (max) application, owned by Twitter. Brands are using this "Instagram for video" to promote their products and services for less.
A Vine account to follow : Samsung Mobile US, created to show the creativity of the people behind the brand.
Novelty : The Loop Counts. This count indicates  how many times people watch a Vine loop. A realtime figure visible directly on the app and on vine.co. For further information, check out the Vine's blog.
With more than 80 millions active users per month, Snapchat is the most recent social sharing photo & video application of all the 3 introduced here. Brands use it to send content, special offer, products launchs, advices, to attract mobile users for few seconds.
A Snapchat account to follow : McDonald's (username : mcdonalds), with information about new burgers and surprise!
Novelty : Geofilters. These allow Snapchat users to decorate their pictures with stickers based on the location where they are. For further information, check out the Snapchat's blog.
Stay tuned, for the second article dedicated to 3 others social networks brands should use for their communication, published in few days!
Camille